More than 118 Tibetans have set themselves on fire since 2009 to protest China's policy in their homeland. Most of the self-immolators called for the return of the Dalai Lama and freedom for the Tibetan people. The Chinese government dismisses these acts as a political plot by the Dalai Lama and his followers to destabilize Tibet and discredit Beijing's modernization programs there. VOA looks at the causes behind these horrific protests.
Please note that this report contains some graphic scenes that viewers may find disturbing.
The sacred is everywhere in Tibetan culture…a culture which holds compassion and respect for all life at its core. But since 2009, individual Tibetans have taken to soaking themselves in gasoline …often drinking mouthfuls...then stepping out into broad daylight to set themselves on fire in protest.
"The Tibetans are now moved to a point that they are expressing in what they feel is the strongest way they possibly can - I will give up my life in order to make the statement that I do not see a future for myself or my people as part of China," explained Steven Marshall, a member of the U.S. Congressional Executive Commission on China.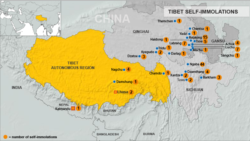 Click to enlarge
​ ​Mass protests, uprisings and even armed conflict between Tibetans and China go back more than 60 years to when the Dalai Lama was forced by Chinese troops to flee Tibet. The most recent wide-scale protest took place in 2008, when Tibetans once again demanded greater religious and cultural freedoms, and an end to what some describe as totalitarian controls over Tibetan life.
"Since 2008, the whole Tibetan area, particularly Lhasa, has been under virtual martial law. Under these circumstances, group protests are naturally impossible because they can be put down almost immediately," remarked Tsering Woeser, a Tibetan writer and blogger in Beijing.
On February 27, 2009, a young monk named Tapey walked alone to the market area in Ngaba and became the first Tibetan to set himself on fire. Eyewitnesses say Chinese security forces shot the monk multiple times while he was still burning, before taking him into custody.
"Since China's takeover of Tibet in 1959 until now, China has attempted systematic destruction and annihilation of Tibetan culture, religion, politics and so forth. All these have accumulated as causes for the Tibetan self-immolations," said Dhondup Tashi Rekjong, a Tibetan writer and editor of
Karkhung
newspaper.
Chinese authorities blame the growing number of self-immolations on what they call the "Dalai Clique" and outside forces, which includes the exile Tibetan administration.
"Recently, some self-immolations of Tibetans happened in some ar eas in China. Judging from many cases, it is very clear that the Dalai clique were masterminding, inciting and encouraging them," Chinese Foreign Ministry spokesman Hong Lei told reporters.
China's official state media have portrayed the self-immolators as impressionable youth with low self-esteem. They are described as having social and/or domestic problems and being easily influenced by news media images on the Voice of America, a charge VOA denies.
The United States is urging China to find solutions through talks with the Dalai Lama.
"The United States wants to see these kinds of tragic acts of self-immolation come to an end," U.S. State Department spokesperson Victoria Nuland said.
According to eyewitness accounts, the most common words spoken by self-immolators, often shouted while fully engulfed in flames, are 'return the Dalai Lama to Tibet' and 'We want Freedom.' At least 100 of the more than 110 self-immolators have died. Hundreds of people associated with the self-immolators have been detained. Some have been sentenced to long prison terms or death.
Don't miss the VOA Film "Fire in the Land of Snow: Self-immolations in Tibet" which premieres June 6 at 1:00 pm EST.